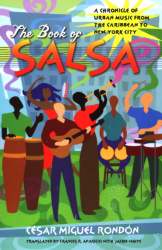 The Book of Salsa:
A Chronicle of Urban Music from the
Caribbean to New York City
by César Miguel Rondón
translated by Frances Aparicio with Jackie White
ML3475 .R6613 2008
New Book Island, 2nd floor
We're going to spice things up a little here on New Stuff Tuesday with a little salsa – and I'm not referring to the kind that you eat (although that sounds tasty right now… is it snack time yet?).
One of the more popular paper topics for students is music, as it generally has a major impact on their lives and can provide enough inspiration to write ten pages. We just received an excellent book for those students. César Miguel Rondón, a Venezuelan journalist and media personality, has provided the world with a comprehensive history of salsa music, a prominent aspect of Latin American culture. Thanks to translator Frances Aparicio, professor of Latino Studies at the University of Illinois-Chicago, this definitive compilation is finally available in English and at your University Library.