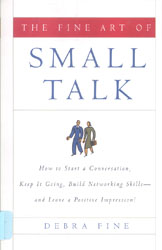 The Fine Art of Small Talk:
How to Start a Conversation, Keep It Going, Build Networking Skills—and Leave a Positive Impression!
by Debra Fine
BJ2121 .F5 2005
New Book Island, 2nd floor
I'm heading to Seattle to a conference this weekend, which provides a source of inspiration for this week's New Stuff Tuesday, as networking and socializing is a large part of attending such gatherings.
Every social occasion presents an opportunity for mingling with new people and… those awkward pauses, uncomfortable fidgeting, stuttering. Whether you find yourself in these situations often or not, handling those conversations can be critical. Fine, successful corporate trainer, presents this quick read on how to master 'small talk.' As she points out, you never know if those fleeting encounters can turn into contacts, business partnerships or social relationships. The book goes in detail on not only initiating conversations with perfect strangers, but also how to maintain the talking, which is sometimes more difficult than the approach. So if you don't feel like your social skills are quite up to par, you might want to take a look at this book.