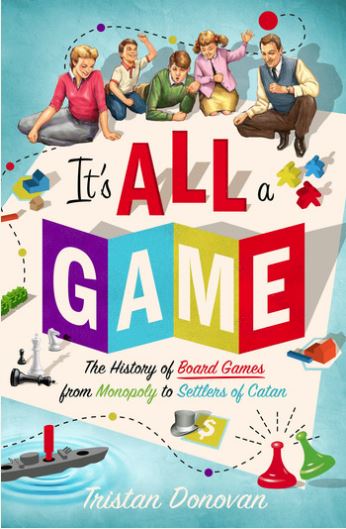 It's all a Game:
The History of Board Games from Monopoly to Settlers of Catan
by Tristan Donovan
GV1312 .D66 2017
New Arrivals Island, 2nd floor
Let's play a game! Did you know Andersen Library has its own collection of board games? They're part of the Curriculum Collection Teaching Tools where you can find classic board games including Monopoly, Battleship, Yahtzee, The Game of Life, Clue, and Scrabble — and newer ones like Apples to Apples and Exploding Kittens. These are mostly games you might find in a PreK-12 school — but we're open to suggestions for your favorite games.
British journalist Tristan Donovan sketches out the history of the board game, from the earliest known game of senet in ancient Egypt to today's Chess Plaza in Manhattan's Washington Square Park. One early game came from the city of Ur (in modern day Iraq) and archaeologists call it the Royal Game of Ur because it was unearthed in a tomb in the city's royal cemetery. Many similar boards were later found elsewhere in the Middle East. Just as with senet, it was anyone's guess how to play the game until the rules to Ur were translated from an ancient Babylonian tablet in the British Museum. You can even find the Royal Game of Ur on Amazon (reproductions, of course). How cool is that?!
If you'd like to see the Royal Game of Ur in action, Irving Finkel, the British Museum's cuneiform expert, will show you how it's done.