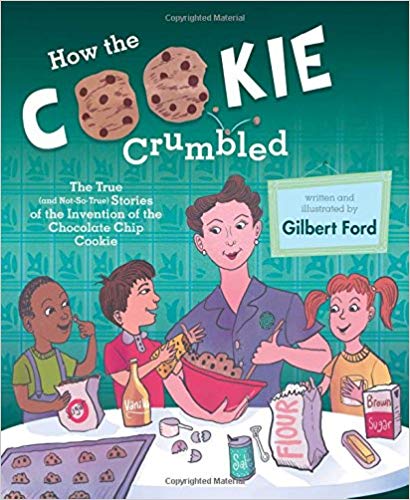 How the cookie crumbled: The true (and not-so-true) stories of the invention of the chocolate chip cookie
by Gilbert Ford
E For
Curriculum collection, Easy books, 2nd floor
I'd heard the origin story – perhaps you have too – of how some baker had forgotten the vital ingredient, the baking chocolate, in her chocolate cookie recipe. She broke up a Nestle chocolate bar and hoped the chocolate pieces would melt while baking. They didn't, and the chocolate chip cookie was born.
Well, turns out there are plenty of variants on that story, and like most stories, the truth is a bit different, as is explained in a minor authorial intrusion in the middle of the story. I won't ruin the surprise for you, but suffice to say that the real story of baker and restaurant entrepreneur Ruth Wakefield's invention – and its amazingly fast adoption as America's classic cookie – is more interesting than the fantasy ones. The various other stories are probably more of a creative invention by Nestle than anything else. Within a few years after the recipe's creation, Nestle was carrying the "Toll House Chocolate Crunch Cookie" recipe on every bag of its chocolate chips – a product they specially designed to match her recipe.
The bright and cheery illustrations (and a sprinkling of food puns throughout the text) make this book fun to read for adults and kids alike. And Ruth's original recipe at the back makes me want to go make that simplest and best of home recipes. Mmmm!