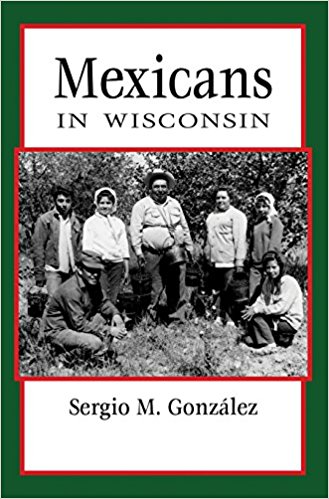 Mexicans in Wisconsin
by Sergio M. Gonzáles
F395.M5 G64 2017
New Arrivals, 2nd floor
Wisconsin Historical Press's "People of Wisconsin" series have covered extensively many of the European immigrants who moved to Wisconsin. This is the first of the series to focus on a group outside of the European region. The series has a reputation of serving as an introduction into a population's reasons for coming to settle in Wisconsin and how they establish themselves once they arrive. Sergio Gonzáles' work on Mexicans in Wisconsin is a great overview to the diverse Mexican communities who have come to call Wisconsin their home in the past 100 years. Starting with many migrants who came to Wisconsin escaping the Mexican Revolution, Mexican migrants began communities in fields such as agriculture and working in tanneries. Families grew over time and became a part of Wisconsin's culture history. Sergio highlights community leaders in the Mexican communities of Wisconsin from young Chicano movement leaders to labor leaders like Jesus Salas. With a heavy emphasis on the Mexicans who settled in Milwaukee, Gonzales describes how Mexicans became a part of the community. Add this book to your collection if you wish to learn more about the rich history of Wisconsin.