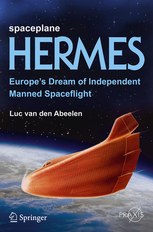 Spaceplane HERMES: Europe's Dream of Independent Manned Spaceflight
by Luc van den Abeelen
TL795 .A24 2017
New Arrivals Island, 2nd floor
It's a little early in the semester to be thinking about far away escapes, but this new arrival may spark the thought. Spaceplane HERMES tells the story of how Europe aspired and planned for independent manned spaceflight. Planning began in 1975 for the development of a small ten ton spaceplane to be launched on top of a rocket which would give Europe the capability for shuttling crews between Earth and space stations. While poor organizational and management choices, and unexpected geopolitical changes (German reunification for one), recession, and the Challenger accident were among the many factors that played a role in the end of the program in 1993, space enthusiasts, engineers, makers and dreamers will find this a fascinating read.
Locate articles from the period in publications such as Aviation Week & Space Technology, Nature, and Wall Street Journal by searching Research@UWW.
Visit the European Space Agency website for and introduction to the project and additional video documentary.