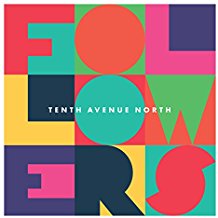 Followers
By Tenth Avenue North
CCM Ten Fol
New Arrivals Island, 2nd floor
This week's featured item is a late-2016 release from the popular contemporary Christian band, Tenth Avenue North. As the title hints, all of the 10 songs focus on some aspect of being a Christ-follower in the modern world. It's not a purely saccharine portrait, though: various songs address the fears ("Afraid"), questions, and self-doubt ("Control") that are still present in every believer's life to some extent, as well as the enduring hope and peace that come from knowing Christ and trusting His work for salvation ("No one can steal our joy," "Fighting for you").
My personal favorite off this CD is "Sparrow," with its more thoughtful, less-amped first verse, and the lyrics that draw from Jesus's words in Matthew and several different Psalms — and a direct tribute to the well-loved 20th-century gospel hymn: "His eyes are on the sparrow / And I know He watches me."
Take a listen, or browse for other popular music in many diverse genres in our Browsing CD collection on 2nd floor.