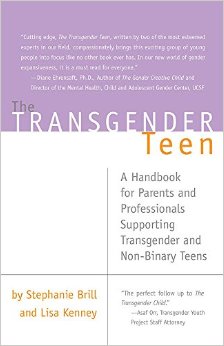 The Transgender Teen
by Stephanie Brill and Lisa Kenney
HQ77.9 B753 2016
New Arrivals, 2nd floor
2016 was a year marked by increased visibility and acceptance of trans people into the mainstream. With this acceptance comes a lot of questions from people who don't identify as such and which the authors of this book identify predominantly as a "generation gap." Brill and Kenney's work serves as both a 101 guide book for understanding the basics of transgender and other non-binary identifications. The book goes beyond just definitions though and coaches readers whose children or young people they work with can serve as allies and be supportive of trans people. By walking through different scenarios and explaining the myths of being trans, Brill and Kenney hope to be your guides in understanding the complexities of the gender spectrum.