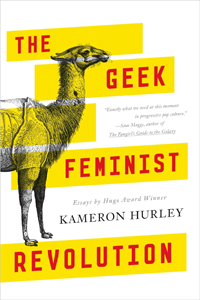 The Geek Feminist Revolution
by Kameron Hurley
PS3608.U769 A6 2016
New Arrivals, 2nd floor
Kameron Hurley has already won two Hugo Awards and a British Fantasy Society Award for her thought provoking essays. This book contains over 35 essays, nine new, with intriguing titles such as "When the Rebel Becomes Queen: Changing Broken Systems from the Inside" and "Where Have All the Women Gone? Reclaiming the Future of Fiction," and the remainder republished mostly from her blog. She's also been published in The Atlantic, Locus, and on Tor.com, to name a few places. This is "her manifesto and call to arms" according to the book jacket, addressing her personal experiences and ongoing conversations in the scifi community. Above and beyond that are universal themes thrown together with humor, seriousness, and joy.
In a serious and moving essay, "Terrorist or Revolutionary? Deciding Who Gets to Write History," she states, "who's the good guy and who's the bad guy can change depending on the day and the new enemy." Think about Nelson Mandela, Saddam Hussein, and Jefferson Davis, to name a few. They were seen differently by different people at different points in time. How have you thought about them? She concludes by encouraging us to write our own stories, because if we don't someone else will.
If you'd like to read one of the included essays before committing to this book, check out We Have Always Fought, Challenging the 'Women, Cattle and Slaves' Narrative.
You may also want to listen to this audio-only Kameron Hurley Interview where she talks about the book on YouTube.
Hurley has also written a fantasy series and a science-fantasy series of books and has more on the way. One of those novels, God's War, is available via UW Request.