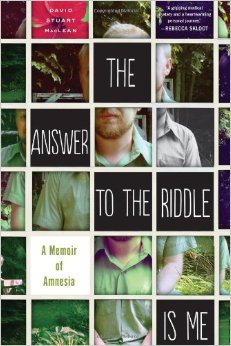 The Answer to the Riddle Is Me: A Memoir of Amnesia
by David Stuart MacLean
Browsing Books Audio PR9199.3.M42445 Z46 2014
New Arrivals, 2nd floor
Does your summer include travel plans of long distance driving or layover time in distant airports? It's easy to get lost in the audio version of David Stuart MacLean's "Memoir of Amnesia," trying to imagine what it might be like to wake up in a foreign place, your memory erased, having to piece together your self.
MacLean's recollections of his early memories after suffering an acute reaction to an anti-malarial medication convey intense fear, paranoia, and deeply felt emotions. Mistaken for a drug-addicted tourist, misdiagnosed, and initially thought by friends and acquaintances to be joking, he could do nothing but accept what others told him of himself and his past, whether true or not. He diligently pieced together their stories and photos they showed him to reconstruct enough of himself to convince those around him that he was fine, that he was remembering. His sometimes absurd, sometimes harrowing tale is tempered by his acknowledgement of the kindnesses shown by strangers, the love of his family, and the dedication of his friends during the worst of his episodes and throughout his continuing recovery.
Click here to listen to a preview of the story told by MacLean on This American Life in 2010.