Need a study break? Do you like jigsaw puzzles?
Try JigZone.com for online jigsaw puzzles, where you can select the theme, the difficulty (number of pieces), and the piece cut style of your puzzle! If you're really, really stressed out, you can select "autosolve" and just watch the puzzle come together. And when you have time, you can create puzzles there using your own photos!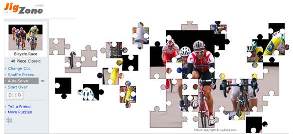 If you prefer the real thing to a virtual jigsaw, Andersen Library has some jigsaws, as well as other games, including chess, checkers, Jenga, Mancala, Battleship, Trivial Pursuit, Scrabble, and more…just ask!