John Updike died last Tuesday of lung cancer. He was the author of more than 50 books and twice the winner of the Pulitzer Prize for fiction for titles in the tetralogy about the life and death of Harry "Rabbit" Angstrom (Rabbit, Run, 1960; Rabbit Redux, 1971; Rabbit Is Rich, 1981; and Rabbit At Rest, 1991). You can read a plot summary in the MagillOnLiterature Plus database, which says "The Rabbit Angstrom books provide an accurate, absorbing, and aesthetically satisfying social history of middle-class North America from the 1950's into the 1980's; taken together, the novels may well constitute Updike's finest achievement."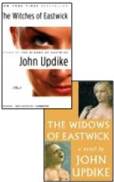 Some of you may be more familiar with The Witches of Eastwick, which was made into a 2000 stage musical and a 1987 movie (starring Cher, Susan Sarandon and Michelle Pfeiffer as the witches and Jack Nicholson as the devil). Updike published a sequel in fall 2008 called The Widows of Eastwick.
Many Updike titles are available in the University's Library, including both Eastwick titles. Search the Library Catalog for locations and call numbers.
More information about John Updike is available from the Library database Contemporary Authors, the NPR web site article "Pulitzer Prize-Winning Author John Updike Dies At 76.", or "John Updike's Mighty Pen" (Charles McGrath's "Week in Review" published January 31st) on the New York Times web site.