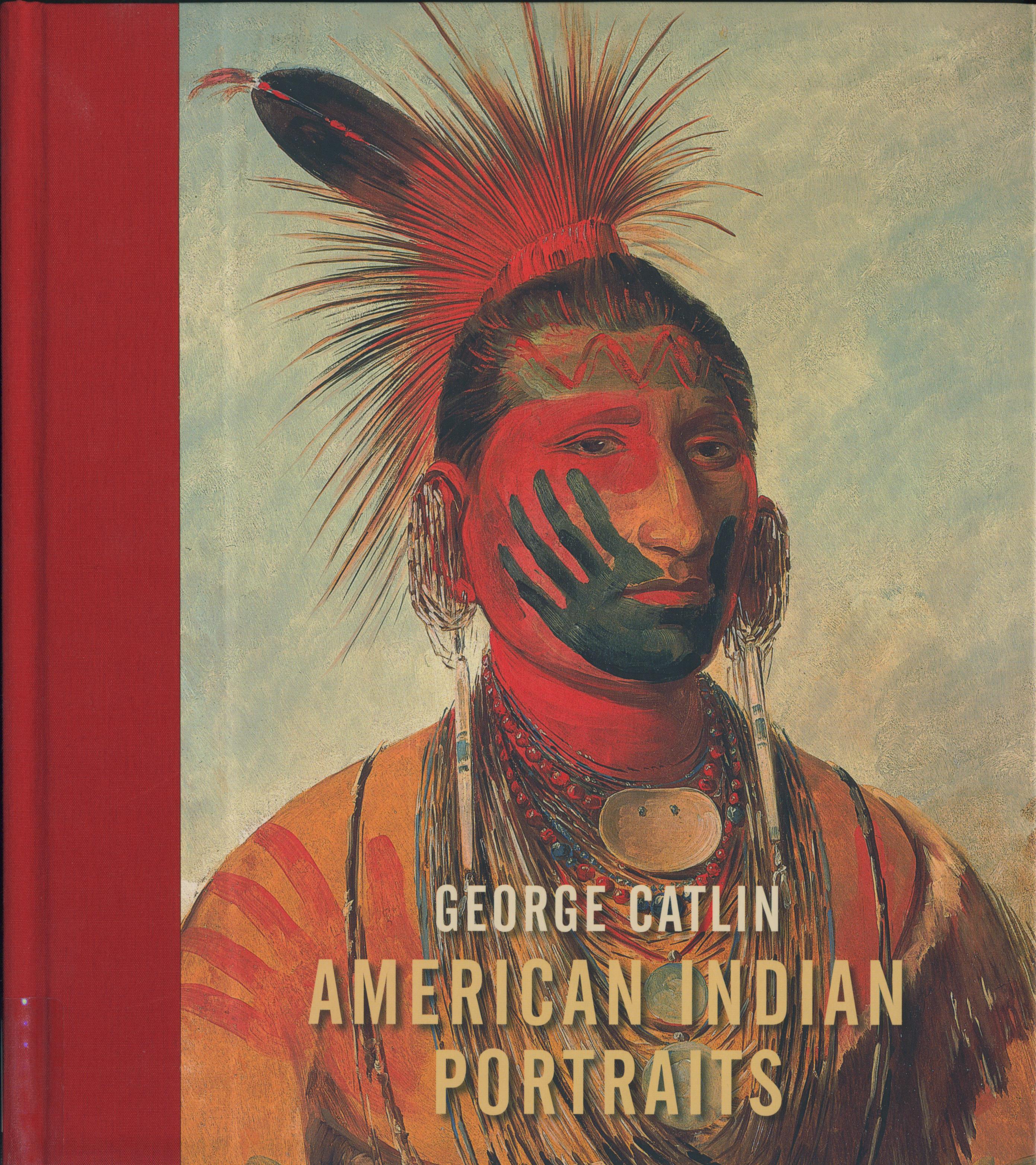 George Catlin:
American Indian Portraits
by George Catlin; curated by Stephanie Pratt & Joan Carpenter Troccoli
ND237.C35 A4 2013
New Arrivals, 2nd floor
November is American Indian Heritage Month so it seemed fitting to choose a book that tied in with that theme for the first week of the month. I was just hoping it would be a fitting tribute to American Indians of the past, and perhaps present and future, and not a bad hangover from Halloween.
From the first it appeared this book would provide multiple perspectives, as the foreword noted that although Catlin captures the character and personality of some great indigenous leaders and other people of the mid-nineteenth century American West in his portraits, he was also exoticizing them and glossing over their plight during his exhibition of those works of art. He had good intentions, even going so far as to note the particular name and tribe of his subjects, but as a chronicler of Native American people and their cultures, he often fell short of giving the complete picture. But was this purely his problem, or was it a sign of the times he lived in? This book investigates questions like these, while providing a balanced presentation of his life, times, and works.
It is importnat to note that this particular book is geared towards a European audience and aims to reintroduce them to the body of the works in Catlin's "Indian Gallery," so references are often made to European places and events.
Most portraits are accompanied by historical details and other contextual information. It was a joy to see that Wisconsin's tribes are represented by several portraits in the book, although the people in question may have been from non-Wisconsin bands. The Menominee are represented by Ko-man-i-kin-o-haw, Little Whale. The Ojibwa/Chippewa by Ka-Bes-Hunk, He Who Travels Everywhere, by Ju-Ah-Kis-Gaw, by Ud-Je-Jock, and by Say-Say-Gon, Hail Storm.The Sac and Fox are represented by Muk-A-Tah-Mish-O-Kah-Kaik, Black Hawk, by Kee-O-Kuk, The Watchful Fox, and by Wee-Sheet, Sturgeon's Head.
If you are interested in reading more about Wisconsin's native residents, check out books such as these from Andersen Library's collections:
Native People of Wisconsin by Patty Loew
Curriculum Collection, Juvenile Non-Fiction under call number 977.5 Loe
Native Wisconsin: Official Guide to Native American Communities in Wisconsin
Wisconsin Documents under call number Z/LC E 78:W 8/2003
Wisconsin Indians by Nancy Oestreich Lurie
Main Collection under call number E78.W8 L87 2002
The library has a couple other exhibition books about Catlin and his works:
North American Indian Paintings by George Catlin
Federal (US) Documents Stacks under call number SI 8.2:N 81
South American Indian Paintings by George Catlin
Federal (US) Documents Stacks under call number SI 8.2:So 8
As well as books by Catlin and/or containing reproductions of his works:
Episodes from Life among the Indians, and Last Rambles by George Catlin
Main Collection under call number E58 .C3535
Letters and Notes on the Manners, Customs, and Condition of the North American Indians by George Catlin (two volumes)
Main Collection under call number E77 .C38 1965
And some in the Early Encounters in North America: Peoples, Cultures and the Environment database
And remember, you can always use UW Request to borrow more print materials from other UW system libraries!