The University Library does not get print copies of tax forms for people to pick up, but the state and federal forms are available online: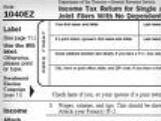 The IRS web site provides federal forms and instructions, along with information about filing electronically.
Wisconsin tax forms and instructions are available from the Wisconsin Dept. of Revenue's web site, along with information about Wisconsin e-filing.
The Irvin L. Young Memorial Library (Whitewater's public library) has, or will have, copies of the most commonly-needed federal and Wisconsin forms that may be picked up.
Happy filing!

The University Library is a federal depository with many federal, state, local, and international documents on a variety of current and relevant issues available to you in print, microfiche, CD-ROM, and electronically. Come check out your government at the University Library!