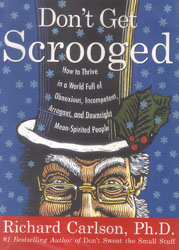 Don't Get Scrooged:
How to Thrive in a World Full of Obnoxious, Incompetent, Arrogant and Downright Mean-Spirited People
By Richard Carlson
MCN Car
McNaughton Collection, 2nd floor
I went to Target this weekend and found myself in the holiday section with my friend, as she was excitedly planning her Christmas decorations and tree. I thought to myself, I guess it's that time a year again. And then I come to the library and see this book displayed on the McNaughton shelves. Perfect.
Dr. Carlson, who wrote the hugely successful book Don't Sweat the Small Stuff, brings us the festive edition, the survival guide for getting through the end of November through the beginning of January unscathed and, well, happy. The author takes fifty common problems encountered during the 'most wonderful time of the year' and advises the reader how to handle the situation. For instance, what do you do when you face line jumpers while waiting to pay for the carefully chosen gifts for your loved ones? This quick read might just be your ticket to heading into the new year intact and ready to tackle those bold, possibly impossible resolutions.