What's going on in Whitewater? How do you find out?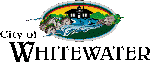 One place to look is the official municipal web site (includes links to Whitewater videos, minutes of the Common Council and citizen committees, public service announcements, and more), or the Chamber of Commerce's web site.
Another option is The Whitewater Banner: News, Photos, Comments, Events, and Calendar site, maintained by City Common Council at-large member Jim Stewart.
Finally, the University Library has a subscription to the local weekly newspaper, The Whitewater Register. A fresh issue is available every Thursday–come on down to the Library's first floor newspapers area and peruse it!