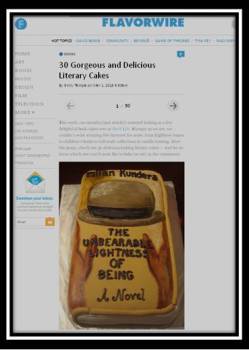 I've posted about books and food before (Books & Bites), but this time we're going way past just combining recommendations for books and food! Take a gander at 30 Gorgeous & Delicious Literary Cakes at Flavorwire.com.
The folks at Flavorwire scoured the Internet for these after seeing the post "Check this out: Book cakes for the hungry reader" on EW's Shelf Life blog. Yum! But I could never make any of these!
And with Spring Break starting, you may want to check out the titles that inspired the cakes! Search the HALCat for the titles to see if we have them.