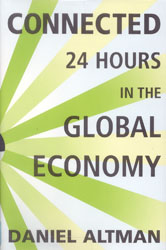 Connected:
24 Hours in the Global Economy
by Daniel Altman
HF1359 .A5475 2007
New Book Island, 2nd floor
What does a Chinese company have to do with the British economy? Do the financial markets in Japan dictate the success of the Western markets? This book looks at the phenomenon that we all know and love, globalization. Altman, scholar and journalist for the International Herald Tribune, takes a different approach to explain how every seemingly small action can affect the world economy. Instead of the usual discourse, the author takes events from one day, 15 June 2005, to explain the global consequences. For example, he utilizes Intel's foreign investment in Vietnam to investigate whether or not countries benefit from multinational companies. This book is a great way to learn about global markets in a very easy to read fashion, complete with notes and references to other useful sources of information.