On Thurs., Dec. 11, at 5pm the Muslim Student Association is sponsoring a lecture on Women in Islam and Jihad (location: Winther Hall 1001).
"Learn about women in Islam and jihad from Janan Najeeb, director of the Milwaukee Muslim Women's Coalition and co-director of the Muslim-Catholic Women's Dialogue."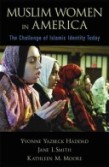 Your University Library has resources if you'd like to learn more. Search the Library Catalog to find titles such as Muslim women in America: the challenge of Islamic identity today (3rd-floor Main Collection E184.M88 H34 2006) and Islamism: A Documentary and Reference Guide (2nd-floor Reference Collection, BP161.3 .C35 2008), which includes a section on women and family. Searching the Library article databases would find additional information.
Please ask a librarian if you'd like assistance finding materials.