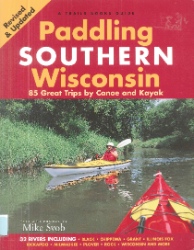 Paddling Southern Wisconsin:
85 Great Trips by Canoe and Kayak
by Mike Svob
GV776 .W6 S8 2012
New Arrivals, 2nd floor
Looking at the calendar, it's hard to believe that the faculty and staff orientation begins this week, and the students come back to campus in eight days. If you're looking for a way in which to not think about the impending school year, this week's featured title will give you a way to get away from it all [for a little bit, anyway].
Svob, a retired college administrator, has taken his knowledge of traversing Wisconsin rivers and put it together in not just one, but two, books on the subject. Divided by geography, the books cover the northern and southern portions of the state and provide over one hundred and sixty routes to take in the natural beauty of the state's waterways. The author goes into the basics of water travel, skill levels of the rides, and safety considerations in the introductory matter. The trips vary from five to fifteen miles and guarantee an adventure for everyone. Just make sure to keep the book dry if you take it!
While Paddling Southern Wisconsin is the one shown in the image, you can find Paddling Northern Wisconsin on the New Arrivals Island as well!