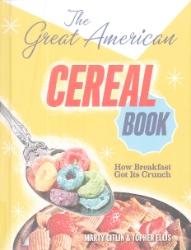 The Great American Cereal Book:
How Breakfast Got Its Crunch
by Marty Gitlin & Topher Ellis
TX393 .G58 2011
New Arrivals, 2nd floor
I can remember one of the first times that I went to the grocery store by myself as an adult, and I went nuts in the cereal aisle. All of a sudden, I had the power to purchase ANY cereal that I wanted and didn't need approval from my mother. Yes, adulthood does has its perks, and this week's featured title profiles one of those – choosing your own breakfast [or lunch or dinner] of champions for yourself.
Gitlin and Ellis, the writing pair of journalists and cereal fanatics, have created a veritable encyclopedia of nearly all of the cereals concocted here in the United States. Utilizing the archives of libraries and collectors for advertisements and photos, the authors reconstructed the breakfast landscape back to the mid-1800s. They detail the industry's start with the basic flake and its imposters, all the way to the addition of addictive substances known as sugar and toys in the box to the mix. Sprinkled with side stories of the marketplace's biggest achievers, the book brings life to the foods and characters that we've all grown to love. Take a trip down memory lane and spark nostalgia for your childhood, even if you're only interested in the pictures.