Guest post by Jessica Hendricks
Most UW-Whitewater students with majors in the communication department are required to spend at least a small amount of time working at the campus cable television station. However, some students may not see how working with UWWTV will help them succeed after they graduate.
Director of Cable Television Operations Jim Mead said he wants to give every student who works for the station an edge that will set them apart from other candidates in the field. "Those who are willing to commit to this," Mead said, "will come out ahead more so than they ever thought possible."
The quality of technology and equipment used at UWWTV plays a big role in putting communication students ahead. According to Mead, UWWTV is more advanced when compared to other campus stations from schools of a similar size to UW-Whitewater. The station recently transitioned into broadcasting in high definition and renovated their control room to employ up to date studio technology.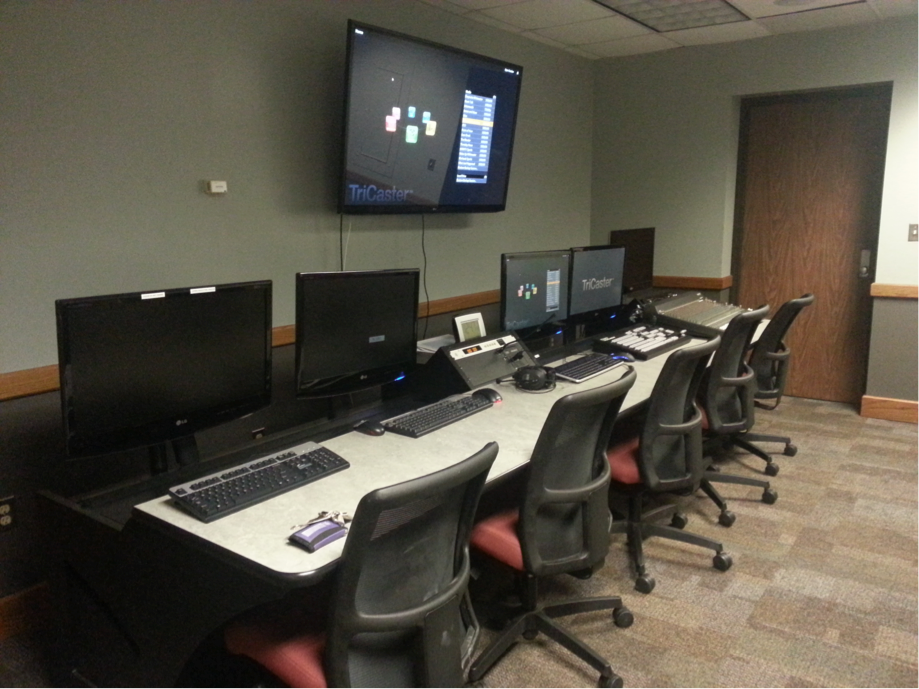 The station allows students to learn post production on programs that they would be using in a real job setting, such as Adobe Premier and Final Cut. Mead said the technology and programs that UWWTV has at their disposal are fairly close to the technology and programs used at an actual television station. He even said that they are looking to possibly get new programs over the summer to put UWWTV a step closer to a professional-type studio.
"The technology helps," senior broadcast journalism major Dan Marz said, "but I think it's the experience you get with the station that helps you the most."
UWWTV allows many opportunities for department majors as well as non-department majors to get involved with the station. Each semester the station holds talent auditions for news anchors and anchors for various other programs. Students are also presented with the opportunity to direct, shoot, produce and post produce through practicum and production classes.
"I think the most helpful things are the practicum classes because it gives you hands on experience you don't get in a classroom," Marz said.
The students who take classes like the practicum in cable television production or television news should be prepared to work hard, according to Mead.
"The expectation here is very, very large," Mead said. "They don't see it now, but they will once they leave and see how much the extra work has paid off."
Marz said he believes all of the extra work has been worth it. As Marz looks ahead to graduation, he said he will take invaluable knowledge away from his experience at UWWTV. He also recommends that communication majors get involved at the station as soon they can.
"Be prepared to have a good time, meet lifelong friends, work your butt off and gain an insurmountable amount of knowledge," Mead advises.
Students interested in becoming involved with UWWTV can contact Jim Mead via email at MeadJ@uww.edu, like their page on Facebook at facebook.com/UWWTV, or follow them on Twitter @UWWTVNews.