We did it! We made it through another week and you know what that means. Featured Faculty Friday! We would like to welcome Brian Leeper as our Featured Faculty for this week. Leeper is part of the Music Department on campus and is the vocal area coordinator. He teaches studio voice lessons and vocal pedagogy. He also directs "Opera Workshop" and Meistersingers Men's Choir. Read on to learn more about him!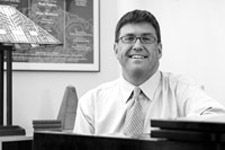 Q: Where are you from?
A: I was born and grew up in Fremont, Nebraska, but I came to UW-Whitewater from Indianapolis, where I taught at Butler University.
Q: What is your favorite thing about UW-Whitewater? 
A: I love getting to work on creative endeavors with fabulous colleagues and students every day.
Q: What are some of your hobbies? 
A: I like to play team trivia and travel the world to experience other cultures.
Q: If you could have any superpower what would it be and why? 
A: I would love to have the ability to wipe away self-doubting of students about their abilities.  That self-doubting can just get in the way of too many things!
Q: What's the best thing that you have ever done that you suggest others try? 
A: I just recently began working with a personal trainer to get into better shape.  I'm doing things that I would never have done on my own – it's very challenging, but in a good way
Q: What's your favorite movie? Book?  
A: Favorite movie:  Sophie's Choice 
A: Favorite Book:  My Antonia by Willa Cather.  It reminds me of my Nebraska roots.
Q: What is your best advice for students?  
A: Always give 150%, even when you think you are giving it all that you can – that is the time that you really discover things that you never even thought possible.
Q: What's one thing that you want people to know about you? 
A: I'm the Artistic Director of La Musica Lirica, a five-week summer opera training program for college students and emerging professional singers in Italy.  It is fascinating to see how living in another culture and being in an intensive musical setting for only five weeks can totally transform students.
Here's some more about Leeper in his professional bio!
Baritone Brian Leeper is voice area coordinator at UW-Whitewater.  In demand as a soloist and clinician, he has presented master classes and recitals at numerous Universities across the United States.  Frequently appearing as soloist in Oratorio and Opera, Mr. Leeper has performed over twenty major roles with opera companies in the US and abroad.  He made his New York City debut performing the role of Dulcamara in Donezetti's L'Elisir d'Amore at CAMI Hall.
Since beginning teaching at UW-Whitewater, he has been featured as soloist in Wisconsin area performances of The Verdi Requiem, Walton's Belshazzar's Feast, Rutter's Mass of the Children and five performances of Handel's Messiah.  Mr. Leeper is currently on the voice faculty and director of the studio program at La Musica Lirica in Novafeltria, Italy, and was previously on the voice faculty of Operafestival di Roma, in Rome, Italy.  Brian holds degrees from Luther College and The University of Nebraska-Lincoln, and is currently completing the DM in voice performance from the Florida State University.  He has studied voice with Roy Delp, Yvonne Ciannella, David Judisch, Harold Stark & Richard Grace.
Leeper can be seen performing in the Music Mosaics: Opera Gems with faculty members Julie Cross and Brygida Bziukiewicz-Kulig on April 7th at 7:30pm in the Light Recital Hall. Tickets can be purchased online here.
Thank you Brian Leeper for being our Featured Faculty for this Friday! See who the next Featured Faculty member is next week. Same place, same time! Have a good weekend everyone.